This is a page for the performances put on by the WorkJuice Players on a tour through Australia and New Zealand in May 2015. The tour included the following stops: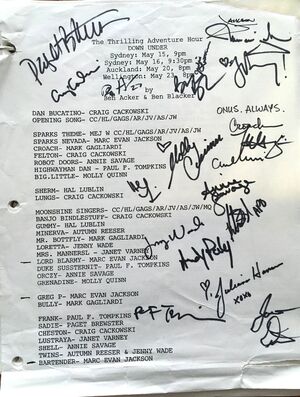 Sydney, Australia - May 15-16, 2015
Auckland, New Zealand - May 19-20, 2015
Wellington, New Zealand - May 22-23, 2015
The segments performed on this tour were as follows:
In addition to a fan q&a and an improv show that were not podcast, the cast did a panel titled LMA Presents: An Improv (Impro) Q&A - Improv in Film, TV & Animation with The WorkJuice Players that may be seen on Youtube.
References
Edit
Pages in category "TAH Down Under"
Ad blocker interference detected!
Wikia is a free-to-use site that makes money from advertising. We have a modified experience for viewers using ad blockers

Wikia is not accessible if you've made further modifications. Remove the custom ad blocker rule(s) and the page will load as expected.