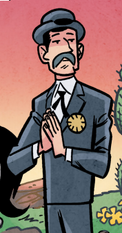 Mr. Johnson is a character in Sparks Nevada, Marshal on Mars.
Mr. Johnson is the husband of Wendy Johnson. In the first comic book series, Mr. Johnson is taking a space coach across Mars with his wife and Felton, lead by Sparks Nevada.
The Johnsons planned on being lemon farmers, after the supplies arrived on Mars and they were settled after the Space coach ride.
He has seen at least four horses in his lifetime.
Mr. Johnson, his wife and Felton were turned to glass for a short time, and then later captured by martians after trespassing on their underground city.
Appearances
Edit
Ad blocker interference detected!
Wikia is a free-to-use site that makes money from advertising. We have a modified experience for viewers using ad blockers

Wikia is not accessible if you've made further modifications. Remove the custom ad blocker rule(s) and the page will load as expected.